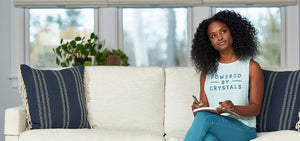 It's a lot less woo-woo and a lot more about you, boo.
At GEYED®, we believe in clothes that are grounded in the metaphysical and tailored to the individual. We weave the long-held wisdom of crystals and chakras into modern designs to create pieces that go beyond fashion and into fruition. But manifesting what you want means doing the hard work. It means taking inventory of your emotions and balancing your energy, setting your intentions and seeing them through.
GO AHEAD, BE SELF-CENTERED
When you focus on you, the whole picture gets a lot clearer. Discover the pieces and crystals that work best for you with our personalized chakra assessment.
LIKE A ROLLING STONE
Crystals can be worn over the chakras to target specific energies and emotions. GEYED® is designed with internal crystal pockets so you can wear, trade and swap crystals to meet your needs.
LET'S BE CRYSTAL CLEAR
Bad energy has to go somewhere. And when it does, you need to get rid of it. That's why we recommend initial cleansing and everyday care to make the most of your most precious crystals.
Learn More